Welcome to Our Practice
Welcome to River View Dental Specialists
Children are not simply little adults; they have specific physical, mental, and emotional needs that require a tailored approach to meet. River View Dental Specialists is the only practice in the area that strictly focuses on the oral health needs of children by offering both pediatric dentistry and orthodontics in one location. We use state-of-the-art treatment methods and deliver care in a manner that is gentle and caring. With us, your child will develop a beautiful and healthy smile that will last a lifetime.
For children, new experiences can be both scary and exciting. Our top goal is to make certain your child is comfortable and has a positive experience all around. From preventative care to orthodontics to restorative care, we can offer it all, making your child a confident partner in their treatment.
Our team provides top-notch dental care to LeClaire, the Quad Cities metro, and all the surrounding areas. If you have any questions or concerns, feel free to contact us so we can help. You can also schedule your initial appointment at that time. We are confident that you will find we are the best choice for your child's care.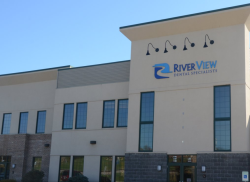 Schedule an Appointment Today
Dr. Christopher M. Cannon

Dr. Chris Cannon is a native of Bettendorf, Iowa and has been with Dentistry Unlimited as a Pediatric Dentist since he took over his father's practice in 1991. He graduated with honors from Northwestern University Dental School in 1988 and received his Pediatric Dentistry Certification from Harvard School of Dental Medicine in 1990. He has taught at Harvard, Tufts, and the University of Iowa Dental School.
Dr. Matthew C. Cannon

Dr. Matthew Cannon is also a native of Bettendorf, Iowa and has been with Dentistry Unlimited as a Pediatric Dentist since 1996. He graduated from the University of Iowa in 1994 and completed his Certificate in Pediatric Dentistry at Marquette University in 1996.
Dr. Brandon M. Wainwright

Dr. Brandon Wainwright was born and raised in the Quad Cities and attended Riverdale schools in Port Byron, Illinois. As a means to help afford college, he served in the National Guard for 6 years. After receiving his undergraduate degree from Augustana College in Rock Island, he completed his dental and orthodontic training at Howard University in Washington, DC. Dr. Wainwright currently lives in Port Byron with his wife Amy and their three children.